Technology is the future.
Artificial intelligence, machine learning, cloud computing, robotics, digital world, we hear these terms every day without giving much thought. Knowingly or unknowingly, many aspects of our lives are driven by technology, e.g. social media platforms like Facebook, Twitter, LinkedIn; Marketplaces such as Amazon, eBay or Price Comparison sites, are using some or all these technologies to customise our experiences, improve delivery, reduce prices and so on.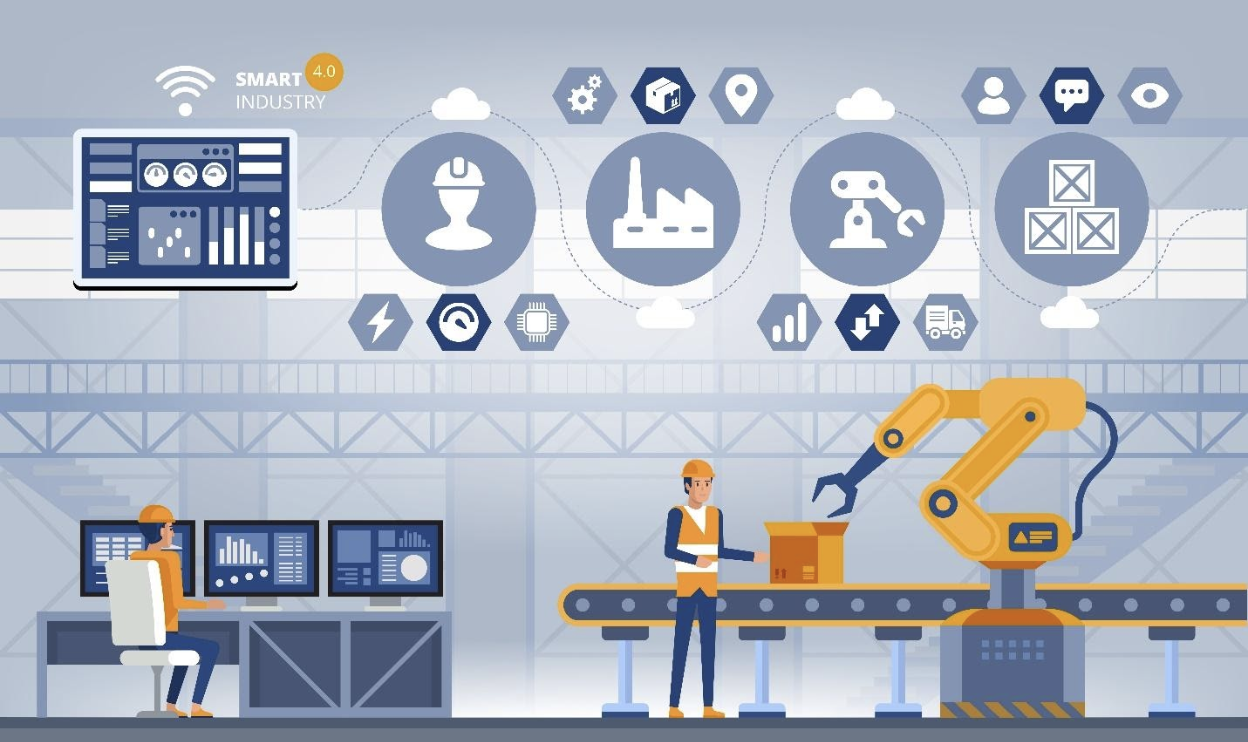 Laboratories are catching up fast.
After a slow introduction of computers, electronic lab notebooks, high throughput synthesis, online literature search over the years, the last 5 – 10 years have transformed the way research is being conducted. Due to computing advances and internet connectivity, exponential growth in automation, instrument miniaturisation and collaboration is happening.
And for a very good reason.
Imagine a traditional laboratory scenario below.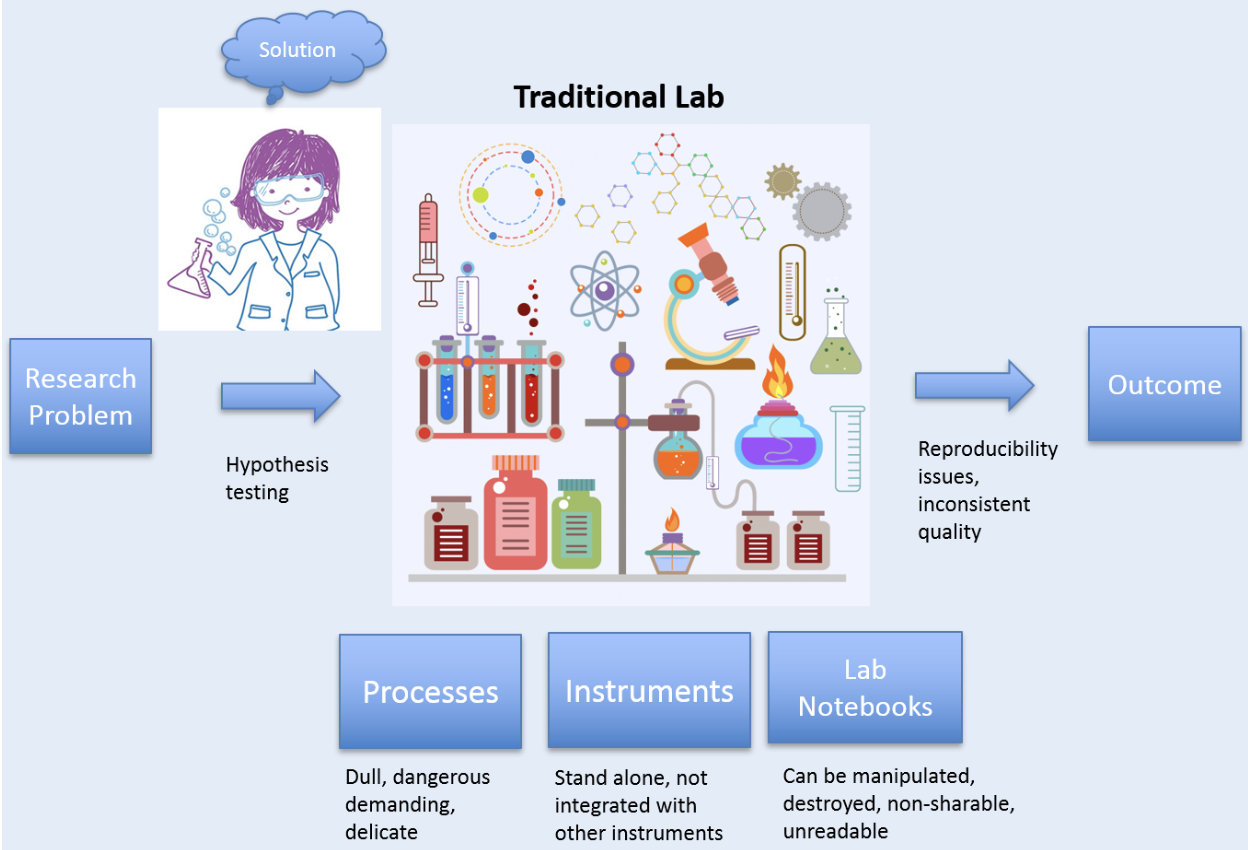 Scientists would spend most of their working day in lab/on the bench. A Synthetic Organic Chemist would be setting up a reaction, monitoring, working up, purifying compound/s (by packing chromatography column, collecting fractions and so on) and analysis. Spending a lot of time on dull activities. Some activities were dangerous (handling carcinogens, highly reactive compounds etc.) or physically taxing.
Now consider a connected laboratory set-up and the ways technology can help.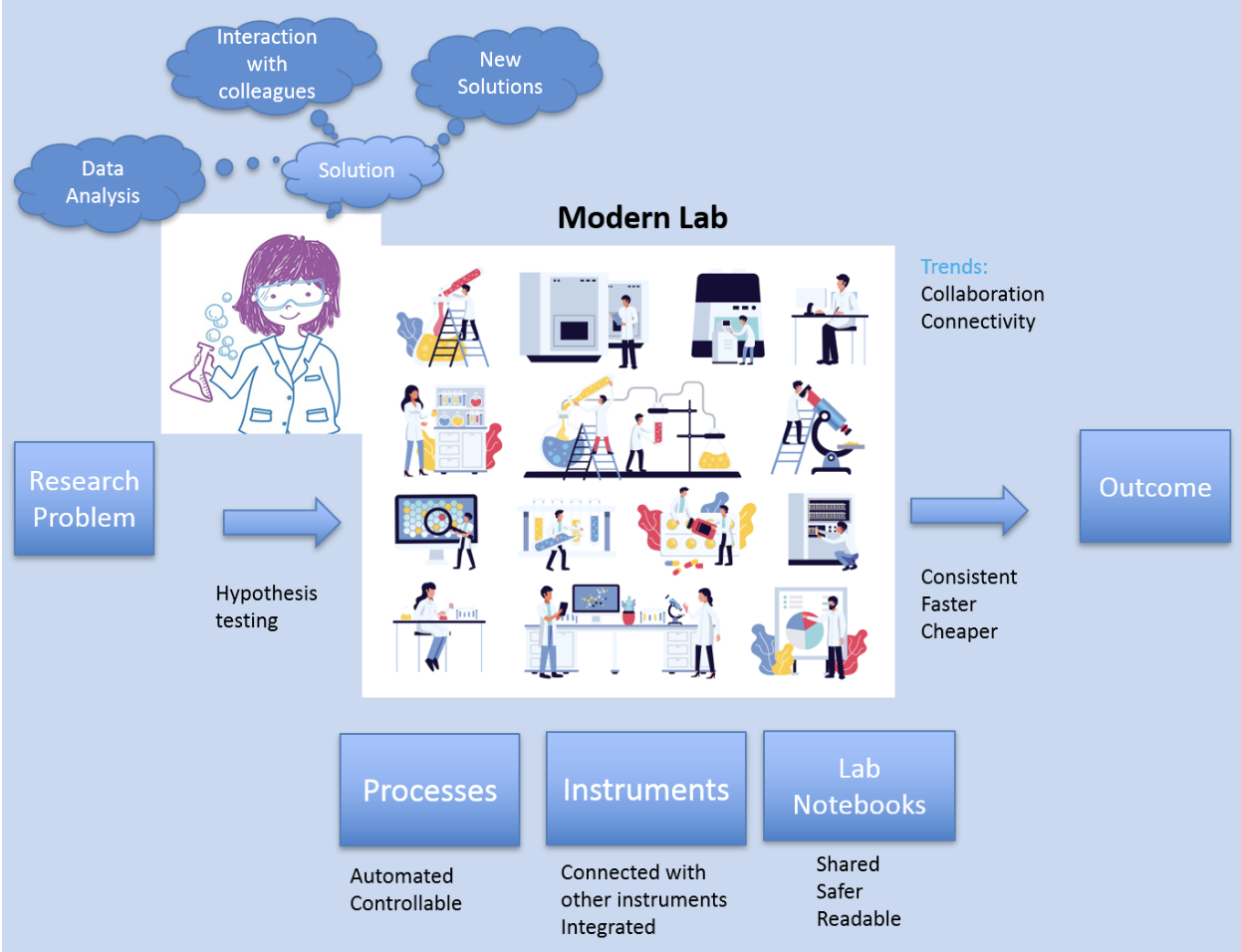 Many processes in the modern lab can be automated and integrated leaving scientists more time to think – analyse results, find new solutions and be innovative.
Human error is one of the biggest causes of lack of productivity or laboratory accidents. Automating dull, demanding and dangerous jobs by application of robotics improves accuracy, speed and cost. Check out a handy infographic on Improving Efficiency with Lab Automation.
In the golden age of biology, cell & gene therapy and personalised medicine, automation and robotics have helped the biological research immensely. As expensive and sensitive material in tiny quantities gets handled, chances of human error and product deterioration are much higher, leading to reproducibility and quality problems.
Technology powered by AI, machine learning and cloud computing could help improve research efficiency allowing researchers to focus on data analysis, interpretation, forming and testing new hypotheses and collaboration with the wider scientific community. In the future, scientists will spend less time in labs, more time in collaboration/thinking spaces and still be more productive.
The discussion so far is about improving operations in traditional labs. But some 'out of the box' thinking organisations have advanced further than just modernising their labs.
Arctoris
One of our clients, Arctoris is the world's first robotic laboratory for cancer research providing fully automated experiments-as-a-service to researchers worldwide.
Launched by scientists and engineers from the University of Oxford, the Arctoris cloud lab specialises in the automation of cell-based and biochemical experiments.
All tools can be accessed by their customers via an online interface, enabling on-demand, intuitive, and remote configuration of assays, secure cloud storage as well as real-time data visualisation and analysis. Leveraging the benefits of robotic experimentation, Arctoris provide full transparency, precision and consistency in drug discovery and preclinical R&D.
Centre for Rapid Online Analysis of Reactions (ROAR)
Based at Imperial College, UK's new Research and Innovation Campus in White City, London ROAR offers state-of-the-art facilities to enable data-centric research in synthesis.
ROAR will support both fundamental and translational research, by focussing on protocols and tools to enable rapid execution and analysis of reactions, delivering effective solutions to optimise reaction efficiency, selectivity, and robustness. ROAR will provide hardware, software and expertise to facilitate studies on existing and new synthetic methodologies.
Many start-up companies we work with have scientific founders taking on multiple roles and responsibilities such as chasing funding, recruitment, marketing, networking, planning facilities and so on while still active in a lab.
Automated scientific operations, data collection and visualisation allows them to carry out the above functions without completely removing themselves from labs and making scientific contributions. Availability of data on the cloud, remote access and 24/7 operations enable them to wear multiple hats, improve efficiency and be at the forefront of science.
Challenges:
With new advances come new challenges.
For new graduates' technology comes as the second nature. Likewise, for start-ups, building a technology-driven culture at an early stage would be easier. For more established organisations with researchers accustomed to specific ways of working, the change could be daunting. A properly managed change programme might be essential.
In my experience, resistance happens whenever any problem occurs, e.g. due to instrument failure or software issues. If no one is trained or able to rectify the issues quickly, adopters get disheartened and start blaming technology. A trained and dedicated person would be essential to troubleshoot teething problems and for ongoing support. If they have a regular job, common complaint is their time gets spent on solving issues and not much time for their work.
There are other challenges such as costs, internet connectivity, cybersecurity, standardisation… Costs involved in adopting new technology can be prohibitive. I'd leave these issues to experts.
Trends in Lab Design:
The changing face of laboratories has brought changes to laboratory design. In our experience,
Dry labs, hackspaces and production areas are on the rise. Less wet labs and limited piped services.
Server sizes getting smaller alleviating the need for big comms rooms and air-conditioning due to cloud storage.
Increasing instrument miniaturisation, reducing the need for chemicals handling in large quantities and storage; justifying re-circulating type fume cupboards, thus avoiding ductwork and building penetrations.
Remote environmental and building monitoring systems (EMS, BMS) installations on the rise.
The office to lab ratio is increasing.
Researchers are asking for wow-factor facilities and not just functional spaces.
Technology is the future. That's what I believe. How technology shapes our lives and laboratories in the future is to be seen – with great optimism.
Courtsey – Manisha Kulkarni